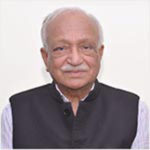 We take pride in having attained a position of leadership in the Indian recycling industry through our continuous focus on 'Creating Recycling Value' for all our esteemed customers.
The CMR Group strives to take a balanced approach, adding value through latest technological advancements, managerial capabilities and effective utilization of local expertise. At CMR Green we believe in "creating memorable moments" and delighting our valued customers. Our reliability and commitment to quality and safety makes us the preferred choice of our customers. We are passionately committed towards continuing our success alongside each of our partners and stakeholders.
The achievements and progress of the CMR Group since the inception are attributable to the hard work of our employees and the long-term support of our business partners. On behalf of the Board, I would like to extend my sincere gratitude to all my colleagues, stakeholders and business partners for their longstanding trust and support.
As we continue our journey forward, we renew our pledge to remain committed to excellence and successfully overcome all challenges that come before us.
Mr. Gauri Shankar Agarwala
Chairman Emeritus